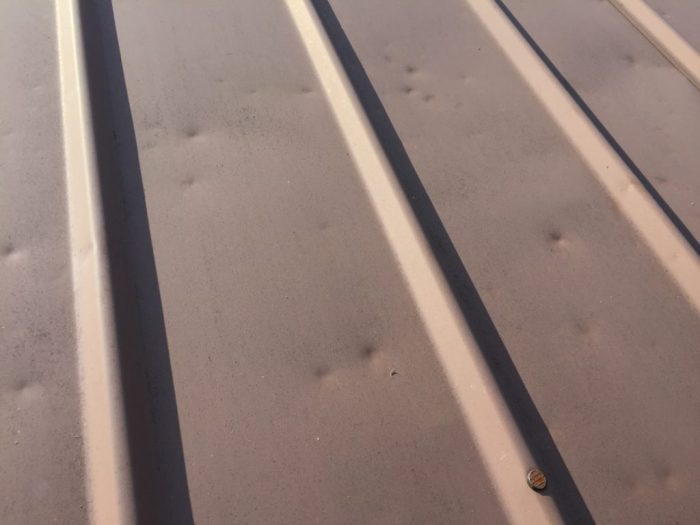 Metal Roofs And Hail Damage
Can Metal Roofs Withstand Hail Damage?
As a San Diego homeowner seeking the best option for your roofing needs, it is easy to look past metal roofs if you feel they are not stylish enough or are a bit outdated. You may even picture the roof on old houses that have seen better days and make up your mind about metal roofs. But, modern metal roofs used for residential homes have been designed in such a way that they are now more durable and aesthetically pleasing. Apart from being more attractive, these modern metal roofs are now more equipped to withstand unfavorable weather conditions like heavy rainfall, wind, and hail.
With metal roofs, you do not have to worry about loud noises or sounds as the roof is perfectly insulated against unwanted noise.
Hail Proof Metal Roofs
Metal roofs were not always this great. Previous designs suffered from design flaws such as susceptibility to dents, noise, and scratches and so were not the optimum choice. Luckily, manufacturers have fixed this problem in modern designs by introducing coatings of resistant materials to provide an extra layer of protection against extreme weather conditions. Now, metal roofs are considered more durable than asphalt roofs when it comes to protection against hail.
This durability against hail stems from a combination of formidable coatings and galvanized metal. Modern metal roofs that are now installed in homes include a UL 2218 Class IV Impact Resistance rating, which is the highest rating available. For this roofing material to get that rating, a test involving a two-inch steel ball dropped from 20 feet in the air was administered. At the end of the test, the metal roof was said to have remained intact without splitting.
Are All Metal Roofs Hail-Resistant? 
Your metal roof's ability to effectively withstand hail will depend on the kind of material your metal roof is made of. This is because some metal roofs are made thinner than metal roofs of different materials and some materials are naturally softer than others. Below is a summary of how different metal materials fare under hail;
Copper is known to offer better resistance to hail than other metals. However, as a result of its softness, copper is vulnerable to warping and denting after being exposed to hail for a long period.
Steel is known for its strength and durability, and so is capable of resisting any damage caused by hail very well. However, over time steel may begin showing signs of dents. This still doesn't change the fact that steel is a reliable roofing option.
Aluminum roofs usually suffer from thin panels which results in severe damage and puncture in a hail storm.
The main characteristic of zinc that makes it a very suitable choice for roofing is its flexibility. Its thickness and panel design determine its level of resistance to hail.
Shingled Roof and Hail Damage
When shingled roofs suffer from dents as a result of a hail storm, it is usually as a result of the effect of the water hitting the surface of the roof and creating dents. These dents that form on shingles leave the roof unprotected and susceptible to water damage. In most cases, water enters the wood underneath causing algae, fungus, and mold. As a homeowner, this could mean thousands of dollars could be spent on repair.
Metal roofs do not suffer this same fate. They can withstand water damage and prevent water from causing any further damage to the wood underneath like in shingled roofs.
All-Around Weather Protection
When it comes to protection against terrible weather conditions, metal roofs are your best bet. Apart from hail, metal roofs can offer you protection against snow, wind, and even ice better than other conventional roofing materials. The materials used in metal roof construction allow water to flow off the roof rather than accumulate and cause damage.
To get the best quality, you should consider metal roofs installed by a professional metal roofing contractor. You are guaranteed a top-caliber weather protection roof for your home with a limited lifetime transferable warranty for your roof. Metal roofing experts will provide you with round-the-clock consultation on the best metal roof to get depending on the kind of weather in your location.